From 2pm Saturday 19th August 2017, Damian Cazaly and Brian McNamara present their joint show at Q Bank Gallery in Queenstown. If you can't make it, here are some of the artworks that feature. For sales enquiries, email qbankgallery@gmail.com.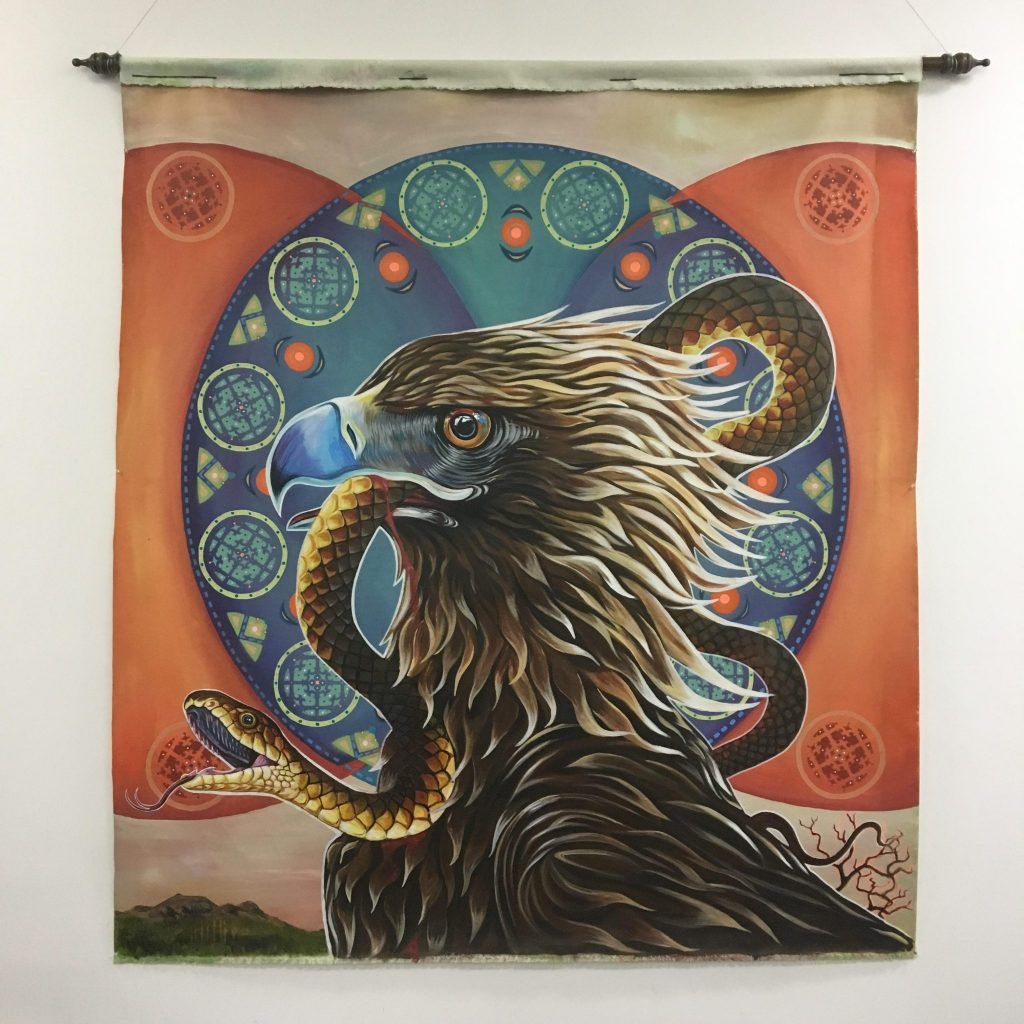 'The Formidable Wilderness' by Damian Cazaly. Acrylic and Aerosol on Canvas. 2.25 metres x 2 metres. $4,125.
"The linchpin of the creative process over the length of the Q Bank Gallery residency has been this mural sized painting. It has taken me on a journey as I've thrown many ideas at it during the cold mornings and into the early hours of most days here. The Tasmanian Wedge-tailed eagle is such a majestic bird, one I've been blessed to have seen on a few occasions travelling through the Tasmanian Wilderness. I wanted to capture the formidable Nature of the West Coast of Tasmania, as well as a reflection on life and death in the Natural world."
"In the 1970's, fisherman from Australia and to a lesser extent, New Zealand discovered shoals of a little known fish living at a depth of about 800 metres on their continental shelves. They were known as Orange Roughy, they were delicious and they existed in huge numbers. In no time at all, fishing fleets were hauling in 40,000 tonnes of roughy a year. Then Marine Biologists made some alarming discoveries . Roughy are extremely long-lived and slow maturing. Some may be 150 years old; any roughy you have eaten may well have been born when Victoria was Queen. Roughy have adapted this exceedingly unhurried lifestyle because the waters they live in are so resource poor. In such waters, some fish spawn just once in a lifetime. Unfortunately, by the time this was realized the stocks had been severly depleted." – Bill Bryson, 'A Short History of Nearly Everything'.
"I remember eating Orange Roughy as a kid growing up in Tasmania. Mum would serve it up to us and I would take a few bites, spend half an hour pushing it around my plate until it would end up being fed to the cat." – Damian Cazaly.
Damian Cazaly:
Damian Cazaly is a Painter and Mural Artist that grew up on the North West Coast of Tasmania and currently lives in Fitzroy, Victoria. Being influenced by the Fauna of the Natural Australian Landscape, Damian's work has a constant focus on the deeper workings of nature, as well as touching upon this country's rich history that, although recorded, isn't often woven into our popular narrative as a nation. The series created for this Q Bank Gallery residency has a focus on the historical aspects of the West Coast as well as the beauty and formidable nature of the ancient landscape that is never too far out of view on this island state.
Website: http://damiancazaly.weebly.com/
Instagram: damiancazalyart
Brian McNamara:
Brian McNamara is an experimental instrument builder and sound sculpture artist based in Bungendore, NSW, Australia.
Brian mixes his passions for music, electronics and sculpture into unique objects that should need no explanation to play or experience but convey a deeper meaning in the context of their surroundings.
Brian builds a range of experimental instruments, with a focus on both autonomous soundart sculptures and interactive installation instruments that require the engagement of multiple people or unusual kinetic movements to be played. His instruments include computer programmed elements, percussion, found sounds from used electronics and purpose designed oscillators.
A key feature of his work is audience movement and participation. Art functions best when the art space is inclusive of the public so through his exploration of experimental sounds he uses engagement with the audience as a medium to convey ideas. These explorations include the link between the environment and technology, our own movement around the planet with movement of those fleeing war torn areas and the link between our own minds and those we try to create in machines.
Brian was a national finalist for the Etsy design awards for his soundart piece The EMDS synth (2015) and won the ReArt peoples choice award for the Automaphone(2015) an autonomous device that interprets drawings into music.

Website: http://grandtippler.wixsite.com/rarebeasts/portfolio-main
Instagram: rarebeasts